Well met, adventurers! Today I am going to do something you have not seen me do before. Something bizarre and unexpected. I am going to gush about my kid. I had meant to write this prior to Father's Day weekend, but things here at BardCo have become somewhat hectic, what with school letting out for the summer, sports programs beginning, and new multimedia ventures coming to fruition. Suffice to say, this is a little late, but still retains much of its potency.
There are two things you should know about me. The first is that I am a fan of the old Gygaxian dungeon crawls of yore, with its pitfalls and terrors beyond reckoning. They were punishments disguised as fun, and damn it if he didn't accomplish both. Never have I had so much fun being rent asunder or crushed to death, or boiled alive, or having my soul torn out or… well, you get the picture.
The second thing your should know about me is that my young son has a strong desire to play D&D or Pathfinder. He can't decide which cover art is cooler. He likes to play with the minis I have on hand, set up my terrain, draw maps on my dry erase flip mat, and tell a story. Sometimes he even asks to use my dungeon master screen for reasons that are unknown but undoubtedly sinister.
If was a few months ago that he asked me if he could "Make a dungeon" for my weekly group.  I gave a wry chuckle and found myself filled with something I believe to be a mix of pride and amusement. I gave him the go-ahead, handed him a Monster Manual and a Bestiary, a couple magic markers, and a boat load of minis, and he went about his dark work. What he created still gives me pause. It would have been an act of pure cruelty and insidious design.
And it was good.
I've given the map he gave me the digital upgrade, as the only remaining picture I have of it (aside from the one seared into my mind's eye), is blurry as all-get-the-funk-out. I will detail each room of this two level horror show.
The Tomb Of Xandarr, The Cruel
 The first thing you may note about the "Tomb" is that it is a little oddly shaped. The triangles, rectangles, squares, and ovals (all shapes easily recognizable to a Kindergartener) that are connected together by a series of strangely-shaped hallways. But when you really take a look at it, a couple things become apparent.
First, the rooms aren't the typical square rooms we're used to in dungeons, leading someone who has no idea the whole thing was designed by a 6-year-old to believe that the entire complex was created by a madman with some issues. The rooms are chaotic, adhering to no symmetry or even consistency. There is no sense of familiarity between rooms since they vary in size and shape with each new chamber. This puts characters on the defensive, never knowing what each room might hold. Granted, this should be the normal state of mind for every character going into a dungeon.
Secondly, those hallways. If you are playing with players who get paranoid easily, these halls are nightmares. Bizarre angles and narrow passages make for an almost claustrophobic setting. Without realizing it, my wee geekling is playing a psychological game with the players, putting them through their paces and tearing away any semblance of peace.
Now, let's get into Level 1
Section 1 – Orc Encampment: "A crooked and jagged hallway of jutting stones zigs and zags its way toward a mostly rectangular chamber. Grunts from the eastern wall signal that the room is occupied. Half a dozen burly orcs rise from a sitting position gripping cruel axes."
The dungeon begins with a pretty straight forward fight between the characters and a band of orcs camping in the room. I say camping because that is what my son explicitly said they were doing. In my "Game Master must justify everything" brain, I reasoned the orcs were about to enter the dungeon and made camp in this empty and defensible first room to regain their strength for the path ahead.
For most characters who enter this room, this battle should be a breeze. Since I figure the average party should be about level 8 to take on the bulk of the dungeon, six orcs is a pittance. Still, with good tactics and focused fire, the orcs could still pose a problem, especially if the retreat down the hall in the north end of the room, which would bottleneck the players.
Section 2 – The Pit of Mummies: "This oval, domed, stone chamber is mostly empty. The walls are bare and there are not sconces for torches. The only thing of import seems to be a single, simple stone sarcophagus sitting in the center of the room. Small cracks run the length of the dust-covered floor like a spider web."
Most dungeons will place their boss at the end. My 6-year-old says "To hell with conformity" and sticks that sonnova bitch in room 2! But he was not content with a simple boss fight. No. He wanted a boss fight with a trap. He wanted a boss fight in a trap! The stone sarcophagus sits in the center of a fragile circle. If a character spends more than two rounds on the surface of the circle, if two stand on it at once, or if two characters pass over it one at a time, the floor will give way into a 40-foot free fall onto a spiked floor. That's a little rough, especially considering on top of the spikes you are also taking bludgeoning damage from the falling rocks.
But wait! There's more!
Once the sarcophagus breaks after the fall, it reanimates the mummy lord within. This is Xandarr, and he doesn't take kindly to being woken up. When I asked my progeny what kind of magic spells he had, he simply said, "Ones that make characters fall down so when they fall down they fall on spikes."
That's actually kind of evil. So, here is the scenario. If the floor collapses (because the encounter is actually entirely avoidable), any poor bastards that find themselves on the floor need to make dexterity or reflex saving throws. Anyone that screws the pooch ends up at the bottom of a 40-foot deep pit of spikes fighting a mummy lord that can put them back on those spikes with a wave of his hand.
 "Are you my mummy?"
Did I mention the second mummy down here? Oh yeah. Impaled on one of the spikes is yet another mummy. Granted, this is just your run of the mill mummy, but damn! That just ups the chances of the poor characters stuck in the pit to get a fun case of mummy rot (still sounds like an STD).
What's more, the rest of the characters would be stuck up above, trying to find something to attach  a rope to, of which there is nothing. Melee characters would either have to traverse the rope and hope the mummy lord isn't leveling spells at them or jump and deal with the spiky goodness. Those that choose the rope are looking at a 2-3 round commitment since the  average climb speed is 15-feet, and the pit is more than twice that.
The walls of the pit are flat and smooth (not to mention round, so no corners to shimmy up), making climbing out without assistance a virtual nightmare as far as difficulty is concerned (and failure meaning another trip to spike town).
On the plus side, the mummy lord is carrying an amulet that can make your skin as tough as stone, so hooray for loot. On the downside, the mummy lord is wearing said amulet, and would be foolish not to use it.
Evil, evil child.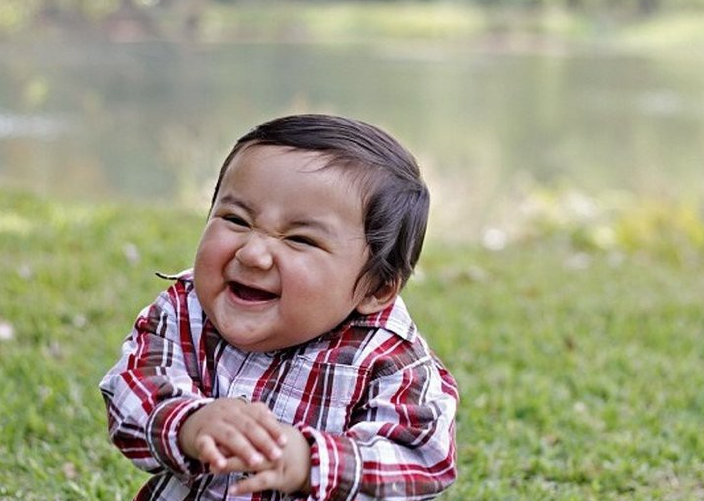 "There is nothing more precious than the laughter of a child."
Section 3 – Trapped Hallway: "The door opens to a 25-foot long hallway. The hallway stretches off into a straight line, but there seems to be a five-foot deep, 10-foot long recess on the eastern side. Seven stone tiles make up the floor, each emitting a clicking sound when stepped upon. A stone door stands at the far end of the hall."
My kid loves Minecraft. Moreover, he loves pressure plates and making them do things. This is a simple hallway, but a very complicated hallway at the same time. Immediately, a canny rogue is going to realize that every single inch of floor is a pressure plate. This makes the rogue's job so much more difficult. Not to mention that recess. What is that? What even is that? Is it a trap?
Oddly enough, no. It's just the shape of the hall. The mean part comes when an unfortunate character stands in front of the door leading out of the hall. Should they fail to disarm the trap, or if they step on the pressure plate before the door, that entire 10-foot section of wall on the eastern side of the door springs forward and crushes anyone standing there.
 "Holy broken bones, Batman!"
It's sort of a fake-out. A trap fake out. The recess screams "look at me!" when it's the stationary wall that is the killer aspect here. I am both proud and afraid on the kiddo.
Section 4 – Go Ahead. Touch It: "This triangular room is lit with a pair of torches on the northeastern and northwestern  walls. The torches burn with a sickly blue flame that casts the chamber in a ghostly light. A small pedestal stands at the apex of the triangle. Atop it rests a smooth violet jewel that size of a child's fist. There is a pair of stone doors on the eastern wall."
"What's in this room?" I asked my son as he drew the funny triangle.
"A stone." he replied matter-of-factly, "It's purple. If you touch it it automatically steals your soul." he continued, drawing a tiny stone in the room.
That's right, the ultimate game of "I dare you to touch it." The danger in this room is easily bypassed. Just walk on out. But that gem. That gem is likely to get someone into trouble. Let'ss face it, we all know that one player that can't talk past a shiny red button without pressing it. Even if the button had a "Do not touch the red button" sign hanging over it, they would still have to push it, just to know what happens. Hell, more than one of us has been that character at one point or another.
"Touch not, lest ye be touched."
The punishment for greed or curiosity is the loss of your soul. No save. Yeah, I made sure to ask him about that, but he insisted that it was automatic.
I asked, "Why?"
"Because they touched it."
Can't argue with that.
Section 5 – Dragonfire Pass: "This curved hallway has intricate carvings of dragons set into the stone walls. The doorways on the west and south are carved into the shape of dragon's jaws. A strange and pungent odor fills the air here, leaving a sort of haze. The ground is wet, with a shimmering purple film seeping in between tiles and cracks."
When I told my son about a dungeon I'd created where a bunch of kobolds lit everyone on fire with flammable liquid on the floor (such are out dinner conversations), his eyes grew wide and he couldn't help but tell his grandmother, and anyone else who would listen. It was, I think, cool to him.
So cool, in fact, that he wanted to do something like it in his dungeon. The hall, as he told me, had dragon heads near the doors. The center of the hall marks the trigger for a burning hands spell to erupt from the dragon heads on both ends, and set the oil-soaked floor ablaze.
  "It's a disco inferno."
Sweet. Simple. Barbeque characters. Even if they didn't get a soul stolen, the hall can easily become a serious pain in the ass, especially for those bringing up the rear. What's worse is that the door at the end of the hall is locked. How good is your rogue? Picking a lock while burning to death good?
Section 6 – Treasure Room: "The door opens revealing a large rectangular room with heaps of gold coins and overflowing chests of treasure. The room is lit by torches in each corner. The flickering firelight dances upon each glinting bobble. An iron door stands against the south wall."
Treasure! Who doesn't love treasure? And there are piles of it here. Coins, gems, magic weapons, and armor. Everything an adventurer could want. But apparently, I have raised the kind of child that doesn't let anything come too easily. I blame years of telling him to clean his room.
Something lives in the piles of treasure. Well, lives may not be the word. A pair of dread wraiths haul ass out of the coins like a demonically possessed Scrooge McDuck. Dread Wraiths, as I am sure you know, are not kind creatures. My son equally so. With a plethora of enemies at his disposal, he hand picked the wraiths because, of course, they looked cool.
 "Rule of cool."
Section 7 – The False Exit: "The iron door opens to a long hallway with a simple wooden door at the end. Hanging over the door is a small sign that says 'EXIT'. The walls of this hall are bare."
The characters beat the bad guys, got the treasure, and managed to live. Now it is time to get out and  enjoy the spoils. Except, this isn't an actual entrance. That wooden door leads to nothing. The hall, on the other hand, does lead somewhere, and it's nowhere good.
The hall, according to my spawn, is like a seesaw. If more than one character heads to the door, the weight will tilt the entire floor, effectively turning the hall into a massive chute. A chute to where?
Well… Nightmareville, basically.
Room 8 – Arena With Two WHATS?!: "The chute leads to what looks like a large arena with a dirt floor. Empty seats encircle the arena, void of spectators. Two large creatures hover above the ground. They have massive, fanged mouths with a sickeningly huge, singular eye. A number of stocks jut from this monstrous floating head, each with an eye of its own."
 "Eye see what you did there."
 I had to ask him three times to be sure. He was sure. Not only had he taken the notion of escape from the players, he pitted them up against not one, but two beholders, or as he called it, "The monster on the front of the book."
"No. Just no."
The fight is pretty straightforward, or at least as straightforward as a fight with two beholders can be. All the characters need to do is defeat them and they can get out. According to my son, the door only opens when both are dead.
I don't think everyone will be getting out of this one alive.
"Kids these days."
There we are. Short, simple, brutal. I should be making some comment about child-like innocence, but honestly, after that… I think he might be pure evil.
The kid has a promising future as a Game Master.
Roll well, my friends,