Blog Archives
ESSAYS ON GAME DESIGN

Essay One: Crawling into Oblivion
Some things that have always bothered me about D&D, and indeed most fantasy RPGs, happen to deal with the way monsters and other dangerous types of creatures and NPCs are presented. In D&D the monster has been reduced to little more than a set of statistics, numbers, and aspect summaries, with little if any regard ever given to the idea of what the word actually means. What it means to be a monster, and what monsters would be like if they really existed (I'm leaving aside for the moment any consideration of the "human monster" who is often far too real, but is in many instances a good guide for how non-human monsters would behave and operate).
For instance many dungeons, adventures, and scenarios are built around the idea that for some unknown (and rarely if ever well-explained) reason, creatures that are hostile and dangerous to people somehow, and usually without prodding, just seem to naturally cooperate with each other to attack adventurers, but not each other. For instance orcs and kobolds can often be found in the same dungeon, no explanation given as to why they would tolerate each other rather than slaughter each other. And many monsters just seem to sit around waiting for the hapless adventurer rather than patrolling whatever dungeon they inhabit, with a well-practiced defense or attack plan, cleaning out the other potential hostiles. A typical dungeon filled with a number of different types of belligerent monsters would hardly be a likely, believable, or functional scenario even in the often not very well thought out world of fantasy adventuring.
This type of incredulous scenario is especially true of the so-called "Dungeon Crawl." Monsters, because they are monsters, would kill each other off and by the time the party arrived the adventurers would be dealing only with the most dangerous and aggressive survivor. For instance, if the Minotaur and the Chimera both existed in the same Labyrinth then sooner of later only one would be left. Furthermore, monsters, if they were organized by some higher force would not be sitting around in a dungeon room just waiting for the adventurers to blunder into their living area. At the first sign of infiltration the monsters would be on the prowl, seeking out and hunting any invaders without rest until such invaders are slaughtered. Monsters cannot be both hostile, aggressive, full of avarice and greed, hoarders of treasure, and bloodthirstily dangerous, and simply lounging about waiting to see if their lair will be invaded by some dangerous force, while calmly playing gentlemen card games with the goblins in the next room to see who gets to keep the ancient artifact they all covet. It's ridiculous, even in the silliest of fantasy worlds. Without a very excellent and extremely fearful need to cooperate, monsters simply don't. They kill each other instead and eat the remains of the weaker creature.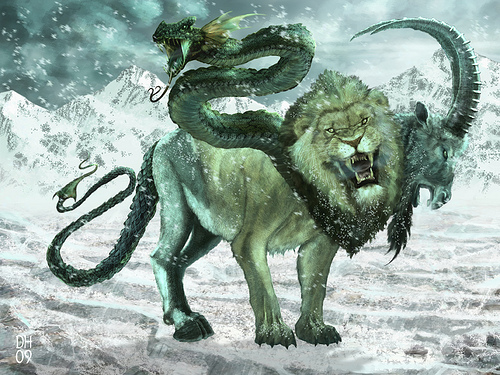 Another thing that bothers me about D&D is the fact that once you meet a monster, or have read about it in the Monster Manual, from then on, it is far too often simply just a matter of encountering hit point variants of the same creature. Having fought Trolls before you know how to kill them and make them stay dead they are an extremely dangerous encounter, afterwards, not so much. (In horror/weird, sci-fi, detective, even some military/modern and superhero games – though superhero games, like fantasy often have on-going villains whose nature you are already well familiar with – this is not nearly as big a problem because often one is constantly encountering new creatures and beings and enemies about whom you have little, if any, advanced foreknowledge.)
Of course historical records could account for a certain degree of knowledge about monsters in fantasy game settings (though such accounts should always be mixed with rumor and mis and disinformation), but otherwise because they are monsters they should be unknown or at least little-known entities; a shock to the system, a surprise, and a real danger. And anything you have advanced intelligence on is far less dangerous than the unknown. These problems regarding monsters greatly reduce the tension and sense of danger in playing the game, and for that reason, they greatly reduce the fun.
I have tried over the years to address these "monstrous and monsterous problems" in my Campaign setting, and in the adventures I write for the players to undertake. For instance in my world monsters are unique, usually one of a kind creations, much more similar to the monstrosities and prodigies of ancient Greece, than the creations of modern fantasy role play. This means when the party does encounter a monster then in game terms it is a real, dangerous, feral, vicious brute. Really and truly monstrous. It also means you can't pull out the Monster Manual to know best how to fight it or know if it likes laying traps and ambushes or the straight out, let's get bloody, man-to-man brawls.
Furthermore it knows where it lives, how it moves, what its tactics are, what techniques it will employ far better than the players. (Which ain't the case most of the time you encounter monster sin most fantasy game sis it now.) Making it that much more dangerous and lethal because it is an unknown quantity with unknown qualities. You don't know the creature's level, challenge rating, hit point count, what it can do, etc. You just know it bites, claws, employs magic, has set traps, is extremely cunning and vicious, and kills. (But only after you've seen it in operation, until then it is all potential.)
So in that way I've solved the "Over-familiarity/Lack of Danger Aspect" of monster design weakness in D&D. (This is just a general "design principle," and like all design principles it is of course open to whatever the DM and players want to do. If the DM and players want gnolls who dress like circus clowns and eat hay and farm naked molerats for monsters, so be it. I'm talking however about milieus and settings with game monsters that are truly monstrous, and dangerous, and unknown, not colorful and comic, humorous, and so familiar they might as well be wearing body scales made out of neon glowing statistical probability charts. If monsters were real they would not be "readable and predictable," instead they would be lethal, unpredictable, crafty, vicious, natural survivalists, and stat graphs and hit point counts would be the very least of your worries if you encountered one that was pissed off, moody, or feeling kind of hungry.
The First Problem though, the problem of "Cooperative Design and Behavioral Unbelieveability," is harder to address, especially when you want to create a "Dungeon Crawl" for your players to game. Because, let's face it, although the standard crawl is silly and extremely weak as normally designed, it is also fun and exhilarating, and is what most people (especially older players) think of first when they think of playing D&D. The common crawl, although utterly ridiculous in many respects, can be a lot of fun if designed right and executed correctly.
So, to that end, it seems like if you're going to create a really first rate Crawl, and I think most DMs should include at least one good crawl (if not many more) in their campaign repertoire, then a few basic design rules would help a lot.
1. Make it as logical and believable as possible, so that even in the middle of a crawl it still seems dangerous and believable. Something where the player wouldn't say to himself, "That's stupid and silly, no orc would ever team up with a gelatinous cube to try and keep me from killing the giant python who lives on top of a pile of gold." So, if there is to be cooperation between creatures whose aims and interests vary, not to mention outright oppose one another, either include a force powerful enough to control and manipulate them all, or use other methods that make it at least seem plausible that the hobgoblin would be working with the Barrow Wight instead of fleeing in horror from such a terrifying and dangerous undead creature.
2. Place in the crawl creatures the players have never encountered before or at least variants of the typical monster types so radical that the players won't really know what they are fighting, or even exactly how to fight them. Bring back the excitement, wonder, horror, and lethality of the monster. He ain't just a giant with 300 hit points, he's a vicious, black-hearted mutha who will snap off your head with his bare hands, drink your blood and grind your bones to make his bread. He means business, he's set traps for you, and if you get close enough that he can catch you he means to rip your arm from the socket and club you to death with it. He enjoys doing that kinda thing because, well… he's a monster.
3. Include tricks, traps, ambushes and other dangerous things that the players are unaware of but the creatures know exist. And let the creatures, monsters, opponents use these traps, tricks, puzzles, and ambushes in such a way as to most damage the party and most enhance their own (the monster's) chances of survival. That is to say the monsters know their environment and how to use it, the players don't. Let the monsters use every advantage they have, especially environmental.
4. Use every other trick and technique you have available to make the crawl disturbingly believable, but also as risky as possible. Remember the adventurer is infiltrating a place he has never been before, has only sketchy, at best, intelligence on, and is by its very nature supposed to be hostile to unwanted visitors. The characters are going into places dark, deep, and undiscovered. That fact alone, as I know from Vadding, can make the venture very dangerous. Throw in monsters, traps, ambushes, patrols, a coordinated defense response, a generally hostile neighborhood, and other dangers of that ilk and you have a very lethal combination. To say the least. Crawls, to use an analogy of military terminology, should be just short of suicide missions, and therefore should perhaps be the most dangerous and enterprising type of fantasy RPG adventure one can undertake. Make the players wish they had prepared as if they were intending to invade hell itself. Because maybe that's exactly what is waiting for them. They don't call them monsters only because they look and smell funny, they call them monsters because they are laughing while they disembowel your still steaming entrails and eat you alive.