Blog Archives
THE WITCHQUEEN
I've always said that Cersei Lannister was the single greatest and most degenerate sociopath in the entire series of novels. She is also the Queen Mother of degeneracy and should have long ago been hung by the neck until dead. She is vile, not in the common usage of the term but in the accurate usage of the term, and she is a communicable disease.
Of course the other events in this episode were equally good (which I will not now mention), for the most part, and this was definitely the best episode of this season, the Battle of the Bastards being the next best.
But yes, even Jamie Lannister, a definite degenerate himself, must now fully recognize the twisted nature of his sister and that she is every bit as "mad" as was the Mad King.
If he has any sense at all he will behead Cersei as Sansa and Jon should do to Littlefinger, but will not.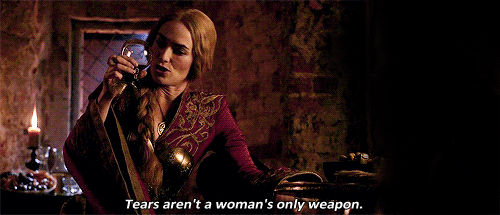 Although I continue to enjoy the story and the action I have to agree to a large extent.
My suspicion is, although this was mitigated to some degree by the past two episodes, that without Martin's books as a general guideline and without his writings to more fully mimic (although the show long ago mutated from the books) the HBO show simply lacks the literary and historical background and allusions which made it so deep in ways other than mere action and fantasy. It has become, in essence, a thing separate and of its own.
It's as simple as that. Although in the books Martin wanders incessantly and often needlessly so, the fact is that the books are filled with historical and literary allusions, sometimes of an almost Biblical or Shakespearean nature.
But without Martin's books as a guide, and as the show outpaces and outraces the books, and strips the books to the bare story and skeletal plot outlines for the sake of the show, these allusions and this depth is mostly lacking.
That is my supposition at it's simplest.
Although I am not a Geek (I am instead a Nerd) and these things (minutiae of this nature) do not upset me much (I will continue to watch) I no longer expect to encounter much in the way of historical or literary allusion or metaphor.
But if the show rallies and I am proven wrong, so much the better…